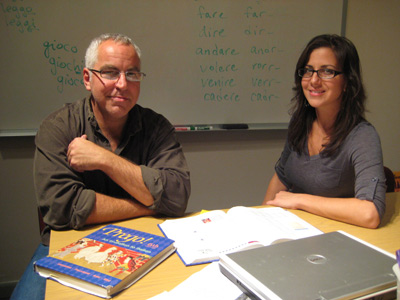 "Thanks for helping me get over my fear of speaking.
I was finally able to order food and go shopping
in Italy!" – P. T.
"After many years of studying, I can now do business in
Mexico without relying on the Interpreters. It has changed
my relationship to the clients completely." – R. G.
"I love the friendliness and camaraderie at
The Language School; it feels like a second home
to me. – S. L.
Whether you're going on holiday, conducting business internationally, thinking of living abroad, or even if you're just indulging your love of learning, we can give you a fun and extremely rewarding educational experience.
No matter what your motivation is, it's never too late to study a foreign language, and we, at The Language School, will help you.
Private Lessons: This is the best and most efficient way to learn a foreign language. Not only will you receive your instructor's undivided attention … you'll be understanding and speaking your new language for the entire lesson! Your instructor can tailor the materials, method and vocabulary to your exact needs and interests. What's more, private lessons offer the greatest possible flexibility for the scheduling of your sessions, and for meeting your own unique learning needs.

Semi-private lessons: If you know someone who would like to join you, we are always happy to set up a class for two students. For best results, both of you should have similar abilities and skills in the particular language you wish to study.

Group Lessons: We'll make these available upon request for you and your families, friends, or co-workers, etc. The preferred size is 3-6 students, and you should all have the same schedule needs, plus comparable ability levels in the language.

Corporate Language Lessons: If your organization is looking for high-quality foreign language courses for your employees, please don't hesitate to contact us. We tailor our programs for all groups and situations, and we're happy to incorporate the specialized vocabularies you may need for your work.

Schedule and Duration:

There is no fixed schedule for private/semi-private lessons ... classes can start at any time of the year, and we will schedule them in the mornings, afternoons or evenings based on your and our teacher's availability. We can schedule one lesson per week, or more. We'll generally schedule 55 minute sessions, but 1.5 or 2 hour classes or even more intensive programs can be arranged for those students who need to quickly improve their foreign language skills.

For rates, please see our Pricing page.
For more information, or if you wish to sign up for lessons, please contact us.

Are you nervous about learning a new language? Please take a moment to read this very interesting Science Daily article about learning a second language in adulthood:

"Adults Can Be Retrained To Learn Second Languages More Easily"
http://www.sciencedaily.com/releases/2005/06/050615060545.htm