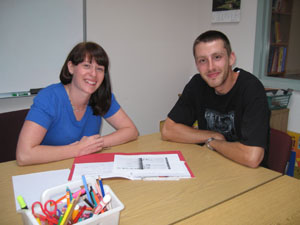 "I need English for work and I was having a hard time understanding instructions and speaking with my co-workers.
I feel so much better now. " – M.F
"Textbook English was easy for me to learn but I needed help learning slang and idioms so I could fit in better at work. 
Now I almost feel like a real American!" – Frederique
ESL Private Lessons

Private lessons are the quickest and most effective way to learn any new language, including English. If you have certain specific goals in mind and need to accelerate your progress, this is the right method for you.
At The Language School, you'll work with trained, native-speaking teachers, who will focus specifically on your own unique needs, goals and ability level. Your ESL lessons will be tailored exactly to your individual situations. Whether you:
Need to learn better English to use it in everyday life situations
Have lived here for a while but never gotten around to perfecting your English
Need to improve your business and professional English for work or interviews
Are spending the summer in the USA and want to improve your English
Are a student from another country preparing to attend school in the USA
… The Language School can help! We will design a customized program, taught right here at our school, at exactly your level of proficiency. Or, we'll challenge you with hands-on practice during trips to restaurants, museums, New York City, etc. Using the 'real world' as your classroom, your teacher will guide and coach you through everyday interactions such as ordering food, buying train tickets, shopping, etc.

ESL Semi-Private Lessons

If you know someone who would like to join you, we are happy to set up a class for two students. For the semi-private method to succeed, the two students must have similar abilities and skills in English.

Schedule and Duration:
There is no set schedule for private/semi-private lessons.  Classes start at any time of the year and are scheduled in the mornings, afternoons or evenings based on your and the teacher's availability. Regular classes last 55 minutes, but 1.5 or 2 hour classes can be arranged. We also offer intensive programs for students who want to improve their English quickly.

For rates, please see our Pricing page.
For more information, or if you wish to sign up for English lessons please contact us.